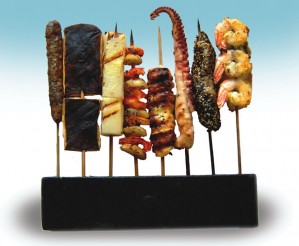 Last Updated on February 10, 2022
by Antonio Pedro Figueira de Mello
Real Gabinete Português de Leitura
The Royal Portuguese Reading Room is one of the most beautiful places I know. It is ideal to spend a morning there.
Bira´s Bar at Barra de Guaratiba
To have a passionfruit caipirinha and to taste the different pasteis (fried wontons) while admiring the breathtaking view from Marambaia plant reef is, without a doubt, one of the best options in Rio.
Ouvidor and Mercado Street Corner
On Friday afternoons, you can´t go wrong joining the Cariocas for their happy hour at this revitalized street junction, next to the Centro Cultural Banco do Brasil and the Casa França-Brasil. When the evening starts, the bars offer free live top-notch samba. Cheap and unmissable.
"Globo" Brand air-biscuits and Mate tea on tap
You can´t leave Rio without trying this perfect duo on a sunny day. When at the beach and you start feeling hungry or thirsty, try the Globo air-biscuits accompanied by a cup of Mate tea straight from the vendor with the barrel. Be sure to ask him to mix both tea and lemonade flavors "misturado". It´s always cold, refreshing and goes great together with the biscuits.
Jardim Botânico
I find it fundamental to set aside a day to spend enjoying the natural beauty of the Botanical Gardens, one of the favorite places of the great maestro and Bossa Nova co-creator Antonio Carlos Jobin.
Jobi
In the wee hours, your best bet is a beer at Jobi, the last bar to close in town. While absorbing Rio's life style, have a chopp (draft beer) and bolinho de bacalhau (cod cake).
Maracanã
You can´t miss Maracana on a Sunday… it´s obligatory!
Antonio Pedro Figueira de Mello is president of Riotur, the city´s tourism office.