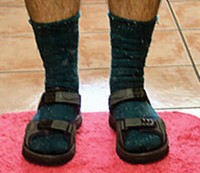 Last Updated on February 10, 2022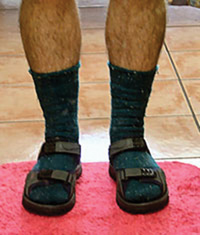 Black socks with bermudas and sandals
You are not in France.
Safari hat
Come on! Brazil has already been discovered! 512 years ago!
Backpack at the beach
What the heck have you got in there that is so important? Black socks? Go to the beach with your beach clothes and that`s it. It's the beach experience, not an expedition.
Large waterbottle
There are juice stands and bars on every corner…do you really prefer your warm water over a freshly blended iced mango juice?
Bean necklaces on men
That's so 90s… and not yet retro. Wait 7 years.
Brazilian flag canga (sarong)
Yup, muggers love it when you wear those, cause they can rob you, then indirectly sell the sarong back to you, how's that for irony?
The Latest italian fashion
It hasn´t caught on yet in Brazil, so it will just make you look scandalous.
Crocs
Unless you are under 8 years old, you`ll just look silly. (Personal opinion)
Pants without butt-crack
Just not sexy…
Flip-flops at night
Rio is not Club Med… put on shoes like everyone else, specially if you are going to restaurants or clubs.
Towels at the beach
The sun will dry you faster than the towel, so why bother?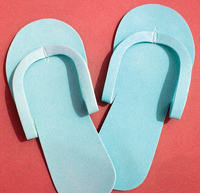 Motel Flip-Flops in public
The best way to look clueless. Leave them at the motel.
Brazilian soccer team shirt
Only during World Cup games.
Argentinian soccer team shirt
Threat to your existence.