Last Updated on February 10, 2022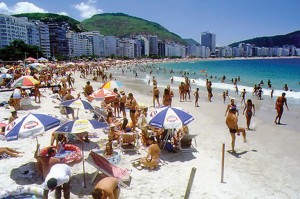 Copacabana still remains a place of Brazilian ethnic, cultural and social diversity. This alone makes it interesting. Est.Total Time (T): 8h Estimated Total Cost (C): R$ 150   Best on: Sunny Weekday
Breakfast
Start off with a hearty breakfast (in case you missed yours at your hotel) at Colombo, in the Copacabana Fort, on the extreme right of the beach, where you can absorb the killer view. R$6to enter to the fort.
Posto 6

Walk to the beach, get a chair and bask in the sun for a few minutes.
Walk and People Watch
Walk up and down Copacabana's sidewalks and check out the diversity of people.
Massage
After your lunch, walk along Copacabana beach looking for a shiatsu massage specialist. They do a great job at a cheap rate (roughly $80 an hour).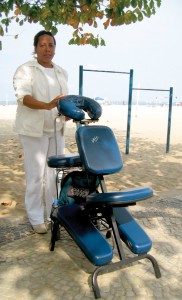 Late Lunch
Once you get to Atlantica Hotel, head in three blocks and ask for Cervantes. Sit down at "Galeto Sats" (the grungy restaurant next to Cervantes) and there you will enjoy another Brazilian meal: game hen in lemon sauce. Ask for batata portuguesa (pan-fries) as a side dish, farofa (manioc flour), pao de alho (garlic bread) and molho-a-campanha (vinaigrette).
Sunset
Head over to Arpoador and applaud the sun's final blessing on today.