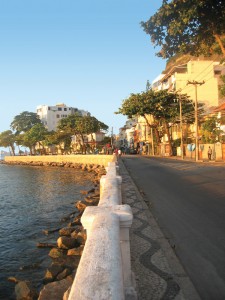 Flamengo, Botafogo bay and Urca with Sugar Loaf are panoramic areas. Visit Sugar Loaf, followed by a schooner boat tour. Estimated Total Time (T): 8h Estimated Total Cost (C): R$100   Best on: Sunny Weekday
Breakfast
Start off with an açaí and pastel at any juice bar close to where you are staying.
Sunset Schooner Boat Trip
Cab to Marina da Gloria and look for the Saveiros Tour agency, which offers 2 hour schooner tours, leaving at 9am. For roughly R$60, they will take you on a traditional Brazilian sail boat around Guanabara Bay.
Saveiros Tour
(21) 2225-6064
www.saveiros.com.br
2-hour walk Thru flamengo park
Walk from Marina to Urca, along the coast, passing by Flamengo then Botafogo beach.
Sugar Loaf
Walk or cab to Urca to get there by noon. Catch a cable car to the two peaks. Take your time: on the first mountain, "Urca", look for a bar called "Abençoado" and buy a bottle of bubbly (R$85). Champagne is never expensive when you have a good reason to open it. Take it to the chaise by the deck and enjoy the height of your trip, soaking it all in.